Top
Biography
Resume
Works
Exhibitions
Installation
Catalogs
News
Media
Video







制作スタイル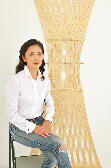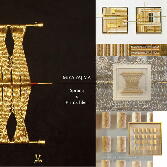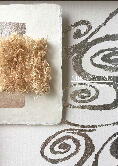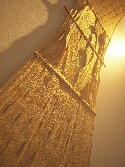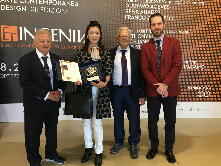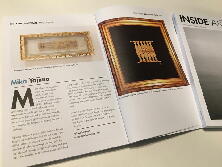 Artist Statement
From the start of her freelance career, Textile & Fiber Artist MIKA YAJIMA produced mainly on order artwork to hotels,

corporate buildings, Airport lounges, etc., for architectural spaces by using original techniques - weaving, knotting,

winding, collage, and polyester coating with fibre material. A paradoxical combination of thin thread and metal,

light and heavy, soft and hard, and the like are her hallmarks. From 2006, she exhibited some conceptual

installations pursuing more spirituality with stronger messages. In recent years, she has made a transformation

from folk art materials and ancient traditional techniques to the contemporary arts returning to the original

self-cultivated material series -Asian royal fern, Basho fiber, Kudzu fiber etc., that continues from her art college days,

something that cannot be done with machines, digital tools, or AI. And she is now focusing a variety style of

expressions using weaving techniques and materials to tapestries, frameworks, installations, and mixed-media,

what based on a consistent theme. It seems like a divine grace that "catalyst by mordant metal compound produce

to vivid colors in natural dyeing. For the artist, such as braiding, twisting, winding, spinning, weaving etc.,

by adding the essence that comes up from artist's inside through the palm of the hand, the fibre and

paradoxical materials harmonized, feeling the moment when a new soul breathed into the works, it is the artist's

greatest pleasure and ultimate purpose. She has received the International Award, 'Lorenzo il Magnifico' the 2nd Prize

in Textile & Fiber Art category at FLORENCE BIENNALE XII 2019 with Sprang-tapestry using Prime numbers.


染織・ファイバーアーティスト矢島路絵は独立時より糸に関わる素材を中心に、織物・ノッテイング・コラージュ・

樹脂加工成形等の様々な技法素材を組み合わせ、平面・立体を問わずホテルや企業ビル、航空会社ラウンジ等、

建築空間へのオーダーアートワークを手掛けてきました。細い糸と金属、軽きものと重きもの、柔らかさと硬さ、

相反するパラドックス的な素材のコンビネーションが作家の特徴です。2006年以降、よりメッセージ性のある

インスタレーションを数回行った後、近年は大学時代より続けてきたぜんまい綿・芭蕉・葛等、自家栽培・自家採取

の植物繊維素材や伝統的織物技術を基に、機械やデジタル、Alでは出来ない民芸染織素材を現代アートへ

変容させる試みに焦点を当て、一貫したテーマを基に染織に係る多様な技法や素材のバリエーションを組み

合わせタペストリー、フレームワーク、インスタレーション、ミックスド・メディアさまざまな表現スタイルの

バリエーションに挑戦しています。例えば草木の汁から鮮やかな色を発色させる"媒染(銅、鉄、ミョウバン等

の染色を助ける金属化合物)による触媒"が人間に与えられた恩寵であるように、撚る、捲く、染める、織る―

自らの内面から湧き出るエッセンスが手のひらを通して加わることで、繊維と相反する素材が調和し、

新たな魂が作品に息吹く瞬間を体験するのは作家にとって、この上ない喜びであり究極の目的であります。

2019年10月フローレンス ビエンナーレXII"アートと発明:レオナルド・ダ・ヴィンチ没後500年-相似と発明の

遺産に向けて"に於いて素数を取り入れたスプラング技法によるタペストリーで

「ロレンツォ・イル・マグニフィコ」インターナショナル賞テキスタイルアート&ファイバーアート部門2等受賞。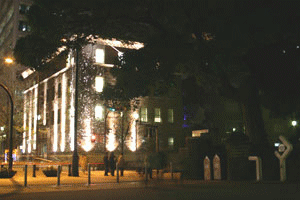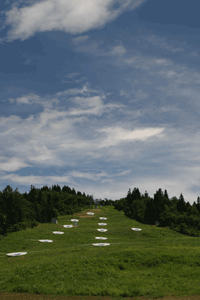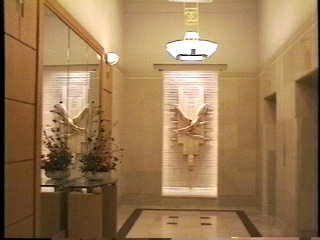 Biography
Born 1965, Kochi Prefecture, Japan. Raised by her parents, who were both educators. In high school, she discovered

an ambition to practice dyeing and weaving, and in order to study under Professor Akiko Shimanuki, a pioneer of

Japan's tapestry world, she enrolled on the Textile Design course of Tokyo Zokei University's Department of Design,

in 1988. The discovery of her great-grandmother's belongings in the family warehouse, and the realization that she

had practiced dyeing and weaving, led her to the experience of personally cultivating and gathering Asian-royal-fern

and raw cotton fibers on the land of her ancestors, cutting down the Basho banana plants that had grown wild there,

and weaving the thread by hand. The theme of her graduation piece was 'Basho, paper cloth and Asian-royal-fern's

eaving - fusing independently transmitted dyeing and weaving folk craft materials that have never before met',

and included research on materials and a tapestry piece. After her graduation, the piece won the incentive award

at the '89 Asahi Contemporary Craft Exhibition, and was bought by her employer at the time, ICHIDA Corporation.

In 1988 she joined the business department of ICHIDA Corporation's Tokyo Kimono Division as a regular employee,

and spent 2 years in charge of merchandising specially selected kimono made by a variety of craftspeople including

Japanese living national treasures. She spent a further 2 years in the marketing room of the sales department

in charge of sales promotion for events such as a cultural event where imperial and samurai daily clothes

and furnishings were exhibited, and a special event involving several thousand consumers,

before leaving the company in 1992 to go freelance.

While in the process of attempting semi-three-dimensional modelling by carrying out resin treatment on textiles she

had woven herself, in 1993, through an introduction by the art business company she was formally employed at,

she offered technical cooperation for a golf course lounge artwork project run by a construction company.

From then on, she was able to specialize in architectural spaces, and handle order-made artwork that involved

building up the space while directly exchanging opinions with architects and clients.

After giving birth and while bringing up her child, she jointly produced original artwork for hotel rooms with a focus

on collage, in a collaboration with other female designers. Representative works include the 1995 Seoul Garden Hotel

series where all main floors of the hotel were decorated with art deco YAJIMA works, a 1998 private work for the

entrance hall of the ambassador's residence in Hanoi of country J which had strips of woven in metal bars coated

in gold leaf as its motif, and a 1999 work for Yokohama Media Tower Entrance Hall, which became the work by the

youngest female artist among works in the Minatomirai area. From 1998 to 2005 she designed artworks for the

entrance halls of the international and domestic Sakura Lounges of Japan Airlines at airports with an emphasis on theme.

At the Echigo-Tsumari Art Triennial 2006 she exhibited a cloth installation consisting of a 300m membrane structure

on a ski slope in summer and in the same year at Yokohama ZAIM she experienced a participatory installation where

citizens decorated the outside of the building with origami silver balloons for Christmas. At the same solo exhibition,

'INSIDE', she took on the challenge of a collaboration with a musical piece composed by a child - 'Moon Flowers' -

conducted an exhibition where participants drank rose tea in an aromatic space, while tasting and enjoying the space,

and in other ways attempted to express the 'INSIDE Inner-heart' through constructing spaces made up

not just of looking and showing, but with the five senses plus the sixth sense as their total.

Recently, to a base consisting of the research theme she has more or less continued since her university days - the

self-cultivated and selected plant fibers from her birth place in Kochi - she has added the unique essence of her

experience at work that involved her in kimono fabric and the creation of architectural spaces, resuming her attempt

to transform folk craft dyeing and weaving into modern art. In what way are those expressions felt by people from

overseas? In 2014 she began displaying her works overseas at selective exhibitions and in other ways, and in 2016

one of those works won the Nicholas Usherwood Prize at the Japanese artist's competition held in London. From

2017, she participated in several art fairs, and was shortlisted for the 'Royal Art Prize V. Edition 2018', and nominated

for the International Artist Award at The World Art Dubai 2018, UAE. In 2019 she received the International Award

'Lorenzo il Magnifico' the 2nd Prize in Textile & Fiber Art category at FLORENCE BIENNALE XII "ARS ET INGENIUM:

Toward Leonardo da Vinci's Legacy of Similitude and Invention" with Sprang tapestry using Prime numbers.

 1965年、高知県生まれ。教育者一家の両親のもとで育つ。高等学校在学中染織の道を志し、日本のタピストリー界

の先駆者島貫昭子教授に学ぶ為、1988年東京造形大学デザイン学科織コース入学、19期生。大学在学中地元の蔵で

曾祖母の遺品を見つけ機織をしていたのを知った事をきっかけに、先祖代々の土地でぜんまい綿や綿花の植物繊維を

自家栽培・採集し、敷地に自生する芭蕉を倒して糸を績む手織物の実体験を行う。卒業制作のテーマは芭蕉・紙布・

ぜんまい織−それぞれが独立して継承され作品として交わることのなかった民芸染職素材を融合させる−素材研究

とタペストリー制作。作品は卒業後'89朝日現代クラフト展に於いて奨励賞を受賞し当時の勤務先、市田株式会社の

買上げとなる。1988年市田株式会社和装東京事業部総合職入社、2年間人間国宝をはじめとする工芸作家のきものを

扱う特選絵羽模様商品担当、2年間マーケティング室販売企画課において公家や武家の衣装調度品を展示する

文化イべントや数千名動員規模の消費者催事等のイべント販売促進担を歴任後1992年同社退社フリーランスとなる。

 自分の織った織物に樹脂加工を施しモデリングする半立体造形を試みる過程で1993年、元勤務先のアートビジネス

関連会社の紹介により建設会社の経営するゴルフ場ラウンジアートワークプロジェクトに技術協力、以後建築空間

専門に直接設計者やクライアントと意見を交わしながら空間を作り上げていくオーダーアートワークを手がける

ようになる。出産、子育て中は他の女性デザイナー達とのコラボレーションによりコラージュ中心のホテル客室用

作品でオリジナルアートワークを共同制作する。代表作はホテルのメインフロアーすべてがアールデコテイストの

YAJIMA作品となった1995年Seoul Garden Hotel作品群、1998年 金箔貼金属棒を織込み帯をモチーフとした

在ハノイJ国大使公邸エントランスホールへの非公開作品、みなとみらいエリア作品内で最年少女性アーティスト

となった1999年 横浜メディアタワーエントランスホール作品等。1998年-2005年テーマ性を重視した

日本航空JAL国内外のサクララウンジ エントランスホールアートワークを担当する。

 越後妻有アートトリエンナーレ大地の芸術祭2006においては夏のスキー場にて300m長の膜構造による布の

インスタレーションを展開、同年横浜ZAIMでは市民による折り紙銀風船をビル外壁にクリスマスデコレーションする

参加型インスタレーションを体験。同個展INSIDEにおいては子供の作曲した音楽-Moon Flowersとの

コラボレーションに挑戦、アロマの香る空間でローズティーを飲みながら空間を味わい鑑賞する展示を行うなど、

見る・見せるだけでない五感+第六感をトータルな空間構成で"INSIDE-内なるもの"を表現する試みを行った。

 近年は大学時代からの細々と続けてきた研究テーマ、地元高知で自家栽培・採取し採り貯めた植物繊維を基に、

きもの呉服や建築空間へのアートワーク制作に仕事として携わってきた経験に独自のエッセンスを加え民芸染織

素材を現代アートへと変容させる試みを再開。その表現を海外の方々がどのように感じるか?2014年より海外

での選抜展等に出展、関連作は2016年、日本人アーティスト選抜コンペティションに於いて審査員ニコラス・

アッシャーウッド賞受賞。2017年より海外アートフェアに参加を始め、2018年2月、英国の歴史あるロイヤルオペラ

アーケードに位置するギャラリー主催ロイヤル・アート・プライズ賞選考候補。2018年4月古代からの捩り織り

スプラングシリーズを加えた一連の作品群はUAEアラブ首長国連邦におけるアートフェア ワールド・アート・ドバイ

2018インターナショナル・アーテイスト賞選考候補となった。2019年10月フローレンス ビエンナーレXII

"アートと発明:レオナルド・ダ・ヴィンチ没後500年-相似と発明の遺産に向けて"に於いて素数を取り入れた

スプラング技法によるタペストリーで「ロレンツォ・イル・マグニフィコ」インターナショナル賞

テキスタイルアート&ファイバーアート部門2等受賞。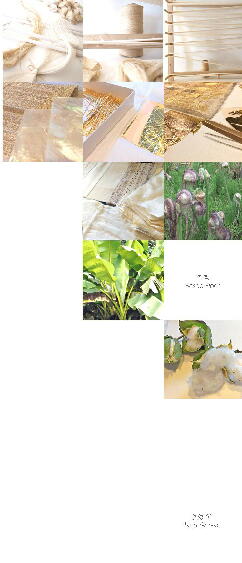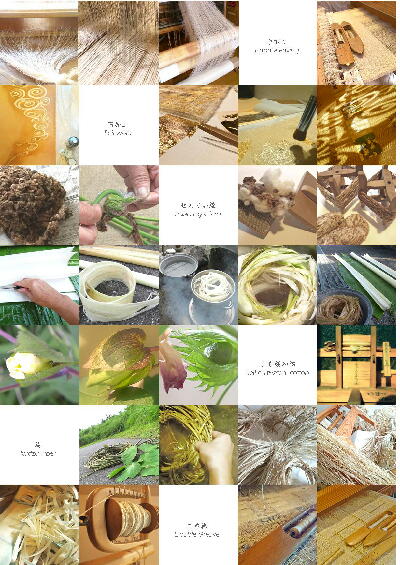 Natural Fiber Materials Series

Published by MIKA YAJIMA 矢島路絵

All rights reserved since July, 2003