Catalog 2018 Spring

J-O1801 Sold


I heard that the pressure of earthquakes creates gold in the deep core of the Earth.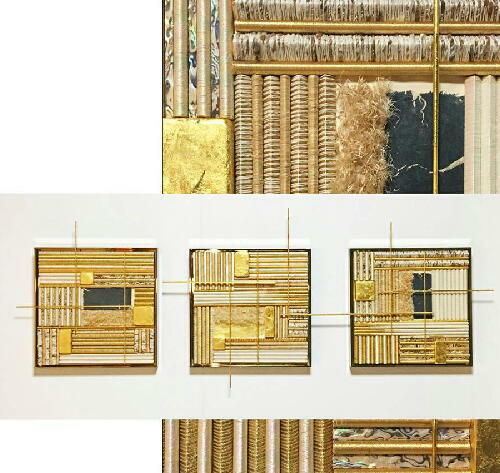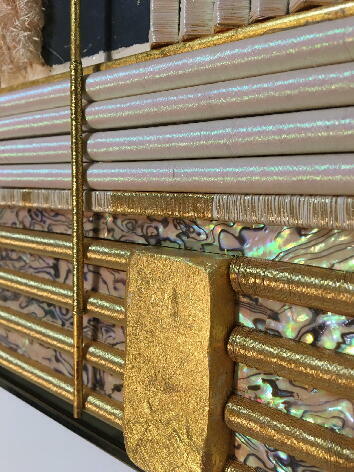 Terra - Before the Earth will break

Piece Size

320(H)x320(W)x25(D)/‡o

Full Size

600(H)x1400(W)x25(D)/‡o

Mixed collage, SUS framed panel

Material

Gilded SUS frame, 23.44K Gold leafed clay, Wood sticks with kumihimo thread,

Self cultivated Asian royal fern & cotton, hemp threads,

Tosa-washi mulberry paper with 23.44K gold and coal leafs, gold thread,

Mother of pearl, Varnished brass sticks with 23.44K gold leaf.

Technique

Thread Winding, Golden Foil work, Mixed Collage.

Note

SUS frames are gilded in 1998, the color is turning to coming off.

Varnished brass sticks with gold leaf will easy to break, please care for with attached BONDIC.

Especially when decorating in air conditioned places and in direct sunlight, the work and the surface may change.

Please care for the works like the Earth sharing the same breath together,

it is the concept of these works.

From the Artist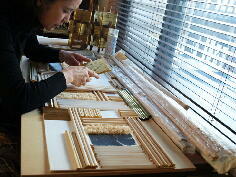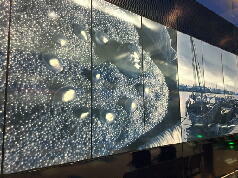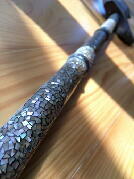 Artist saw a large panel of pearls at BurJuman station in 2017.

She often used mother-of-pearl in her weaving and collages from the start of her art works.

Pearls remind her of the ancestral decorated Spear.

We are connected by the Ocean since the ancient times. vered wood, paper, textile etc., soft materials to keep its condition from ancient times.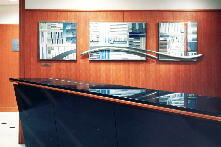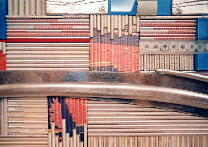 2002 JAL Sakura Lounge Annex / New Tokyo International Airport @@@ @2004 Kansai International Airport @@@@@@@2005 ChobuCentrair International Airport





A paradoxical combination of thin thread & metal, light & heavy, soft & hard, and the like are her hallmarks.


This thread winding series were installed 1998-2004 mainly as commission works.


Remaking works from her past commission works, using natural fiber materials with a stronger message.





All images (C)2018. MIKA YAJIMA ATELIER , JAPAN. All rights reserved.

Contact